1. Install Aptoide Client in your device
(if it is not yet installed)
To install Applications from Aptoide you need to install Aptoide Client.
1.1 You can use one of the following ways:
- Download aptoide.apk and install it in your phone:
- Or scan this QR code with your Android device: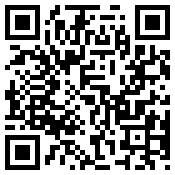 1.2 After the download is complete, go to the notification bar and press de application name (Aptoide.apk) to start installing Aptoide.
1.3 Click in "Install" button to finish Aptoide installation.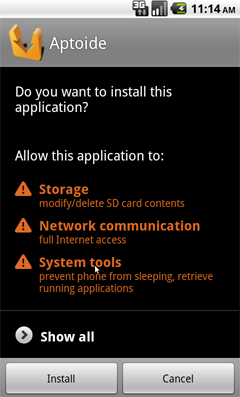 2. Browse through the applications and choose one to install
2.1 Access this application in Aptoide Mobile, by clicking here or scanning the QR Code below.
SVR Pro
QR Code


Click the Install button!
Specifications:
Min SDK:
7
Min Screen:
Small
Permissions:
android.permission.RECORD_AUDIO
Allows an application to record audio.
android.permission.RECORD_VIDEO
android.permission.CAMERA
Required to be able to access the camera device.
android.permission.WRITE_EXTERNAL_STORAGE
Allows an application to write to external storage.
android.permission.VIBRATE
Allows access to the vibrator.
android.permission.INTERNET
Allows applications to open network sockets.
android.permission.ACCESS_NETWORK_STATE
Allows applications to access information about networks
Description:
Secret Video Recorder. No sound, preview. 1-touch operation. High quality video.

Secret Video Recorder. No sound. No preview. One touch recording. High quality videos. Turn screen off and continue recording. Make and receive phone calls during recording.


Features:

1. Recording starts and stops in the background

2. Record with front or back camera

3. One touch recording. It cannot get any simpler than this. Start video recording either by tapping the icon or by long press of the seach button (on supported devices)

4. Turn screen off and continue recording

5. Talk on the phone and continue recording

6. High quality recording

7. Discreet app name and icons

8. Saves battery to allow long recordings. E.g. Samsung Galaxy S II you can get 10+ hours on battery compared to 1 hour with the stock app

9. Auto stop recording

10. Compatible and extensively tested on all versions of Android


Uses:

1. Long, full day recording

2. Spy on baby sitters, maids, caregiverss

3. Take videos where prohibited


Secret Video Recorder remains completely hidden and records in the background even with the screen off. Please try the free version of the app to understand the app capabilities.


Known bugs:

1. The recording gets corrupt on some versions of Samsung I9100 when the screen is turned off. It is a Samsung driver issue.


Email us onfeedback@zeronoiseapps.comwith feedback and feature requests. We are committed to top notch customer experience and will respond quickly to feedback and feature requests. If you like our app, please take a minute to rate it on Google Play market.


Secret Video Recorder is developed and distributed by Zero Noise Apps. All rights reserved. We reserve the right to anonymously track user activity within our apps. This app, Secret Video Recorder, is licensed, not sold. By downloading the app, you accept our EULA available on our website athttp://zeronoiseapps.com. App is licensed for individual, private use only. For use by companies, please contact us for corporate license information.


Please visit us onhttp://zeronoiseapps.com.


tags: secret video recorder, secret camcorder, hidden camcorder, secret recorder, spy video recorder, spy cam, spycam, stealth video recorder, stealth camcorder, screen off video recorder, screen off camcorder, screen off recorder, background video recorder, background recorder, background camcorder, mobile hidden camera, mobile secret video recorder, mobile hidden camcorder, mobile hidden video recorder, secret camera, hidden camera, spy camera, stealth camera, background camera, screen off camera, free camera, free camcorder, free video recorder, best camera, best camcorder, best video recorder -